The publication awards aren't based on any individual work. Instead, they're a feeling, a check on a publication's entire body of work. Two categories–one for independently run sites, and one for those run by formal businesses–each holding incredible works. Neither award is considered more important than the other.
MAJOR PUBLICATION
Each of the nominees for major publication–GameSpot, Fanbyte, Polygon, and USGamer–scored multiple nominations in The Goodies. More importantly, they actively produced the type of content worth celebrating, whether through phenomenal guides, in depth reviews, video features, news, or more.
At GameSpot we enjoyed reporting on collector's editions, quality commerce writing, snappy retrospectives, thoughtful criticism, engaging written and video features, and so much more. Ongoing FFXIV coverage was something we read with great interest.
Fanbyte is a publication with voice. It easily has the best Twitter account around. The site's guides–be they Animal Crossing or Yakuza–are always direct and informative. Different angles and approaches to the games everyone's talking about are commonplace there.
While Polygon has changed a lot over the years it still produces some of the most memorable reads around. It's the reporting that stands out most to us when thinking about 2020. There's no shortage of quality retrospectives, tabletop coverage, and great reviews, either.
While USGamer is sailing to the great beyond it doesn't mean we can't honour it. There, we always expect to find works on games that don't quite get the same coverage elsewhere, be it Blaseball, Disco Elysium, NHL, or Moon. Thank goodness Axe of the Blood God is still going.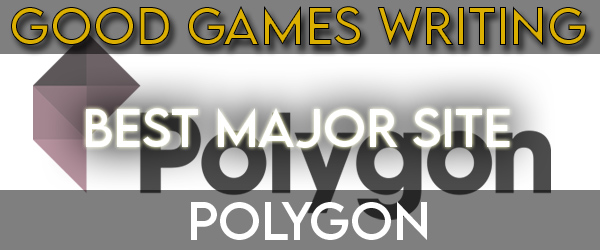 Given how the judges voted it might not come as a surprise Polygon was voted in. The site scored two nominations in longform, one in family gaming, two in sports (which it won), a nom in indie game coverage, another in global pandemic writing, a nod in tabletop coverage, one in gamedev, a nomination in ongoing coverage, one in reporting, and it won best feature.
The judges regularly recognized the variety of pieces Polygon produced while spreading their nominations to writers like Stacey Henley, Sam Greszes, Ben Kuchera, Charlie Hall, Matt Leone, Cole Henry, Kazuma Hashimoto, and Nicole Carpenter.
Congratulations to each of the nominees!
INDIE SITE
There's a greater range and more noticeable differences between the indie sites than the major sites in some ways. Bullet Points' and Into the Spine are both crit-centric, Uppercut offers a bit of everything, and Can I Play That? focuses on an important niche.
Their similarities are more apparent:
To compare these sites against one another is a near-impossible job. Each represents the best of games media in the here and now while building a better future for our space.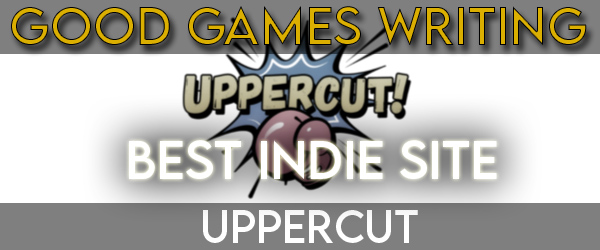 We can't really speak for our judges on this because we don't know how they arrived at their decision. Each of these publications consistently shines.
Uppercut deserves this commendation for many reasons. It offers a blend of content including a fun podcast and a stellar column. It stepped in to recover EGM's cancelled freelance pieces – an astonishing collection that warrants your attention even months later. Its "end of year letter series" produced consistently thoughtful reads. Uppercut has become one of our most read sites over the course of 2020. We've no doubt that will continue into 2021 and beyond.
There isn't much left to say except CONGRATULATIONS to Uppercut and all nominees.