We're here for the first of your Friday night awards with two fantastic works worthy of your attention.
EXPERIMENTAL FORM
This award is for works that don't quite fit the mold of traditional games media; we don't really know how to describe them except to acknowledge their impact on us as readers.
100 Word Gaming has been somewhat experimental in its very nature, reviving in its own way the art of magazine reviews, where a word limit was imposed by the amount of space on a given page. There's generally no functional reason for short reviews but there are plenty of good reasons for doing so — a case of less is more. Check them out!
Our favourite piece of theirs from the past year is Waverly's review of New Jersey Transit which takes the form of a poem. It's a wonderful piece but watch out for the dog…
Ed Smith's Restless Dreams project has been a font of introspection and analysis on Silent Hill 2. The ninth chapter is a doozy, tackling the dream-like world of the town, with the setup coming in the form of Smith's own haunting nightmares. It pulls something of a bait-and-switch in that it's the most blog-like piece of the collection thus far, and yet, the much smaller analysis hits all the harder for it.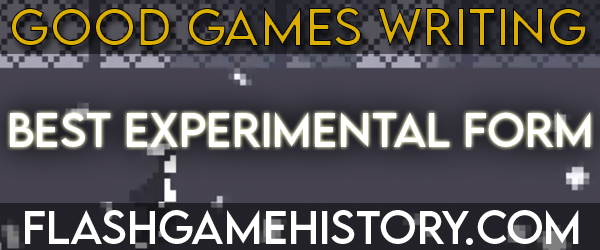 It's hard to put into words just how enjoyable flashgamehistory.com is as it is a visualization first and foremost with a few facts and a collection of personal stories tossed in for good measure. The central graphic highlights "the 2000 most popular Flash games on Newgrounds in chronological order" with each bubble representing a popular game whose size matches the number of times the game was played on the portal. While Newgrounds wasn't the only game in town, it was the most prominent, and watching the number of games balloon (or bloon) upward, growing ever larger in size, evokes a certain nostalgia.
Then the crash happens. By 2017 the visual is a barren wasteland. Flash is dead — but its final blow wouldn't come until this past December. This is one project that will keep its memory alive and, we suspect, be a source of information for future researchers.
GAMEDEV
This award is given to a piece that captures the process of game development; uniquely, it's an award where actual developer blogs and the like are actively considered alongside reporting.
In this case, those works include:
Each of those pieces is instructive in different ways and each taught us something new about game development.
At Nintendo Life, Damien McFerran looks back at Star Fox Command with a trio of the development team from Q-Games, providing a glimpse of what it's like to work with Nintendo as a partner.
The final pieces listed here have all been nominated in other categories including Eric Van Allen's inside blaseball (we're not apologizing) at Blaseball in the Sports Category and Matt Leone's oral history of Street Fighter 3, nominated in the Extended Form category. Both are formidable pieces with no shortage of nuggets worth your time.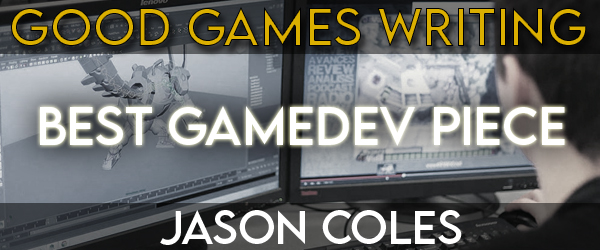 The final work nominated in another category–Original Reporting–is Jason Coles' industry analysis of what it takes to "break into" the games industry. Going to events, accessing entry-level jobs, and weaving your way through the application process is the standard fare on offer that we expect from pretty much any industry. Coles digs in, though, and through well-placed interviews makes the case that there's a high barrier to entry, though not so high that steps can't taken:
As Nida Ahmad, UX designer at Netspeak, puts it: "Getting in the industry is expensive. Playing lots of games, keeping up to date with events and attending, going to conferences… Many don't understand how expensive it is trying to get into the industry, expensive in terms of money, effort and mental health. When you don't have access to resources to start with, it can be tough." […]

The UKIE census showed that 62% of people in the industry have come from a background with a parent in a managerial job, which shows that many of those without that kind of safety net simply can't afford to risk it. It could also just be that those who are working-class or underclass simply don't realise they could get a job in the games industry. Without exposure to it or savvy parents, it's hard to know what you'd even be doing, though hopefully, things like tutorials on YouTube and more open threads on Twitter can help with that issue.
Congratulations to the winners!