As #TheGoodies2020 roll on to their second day the number of awards ticks up. We're recognizing Best Sports Coverage, Family Gaming Coverage, and by reader choice, naming the Extended Form winner.
Sports
Covering sports games and their derivatives is no easy task. Consider the case of reviewing a juggernaut franchise like FIFA or NHL: it is as important to know something about the sport being played as it is to intimately know the franchise, its quirks, its failures, and its iterations. Both Wesley Yin-Poole and Kat Bailey are experts in this regard. From Yin-Poole's FIFA review:
Alas, while EA continues to make bank out of FIFA as it is, I can't see much changing, even with the next-gen opportunity over the horizon. So, for now, we have another FIFA, as it has been this generation, and how, I fear, it will be on the next.
Then there's the even more niche games in the genre covering sports like snowboarding and skateboarding. Tony Hawk Pro Skater 1 + 2 Remastered was the pre-eminent release in 2020 and, as a remaster, understanding the culture of skating, the context of the original release, and the implications today are all important. Michael Higham and Cole Henry both proved they could handle such a hefty task.
Then there's Blaseball. It's hard to describe what, exactly, it is, but both Sam Greszes and Eric Van Allen contributed to our understanding of the surrealist game.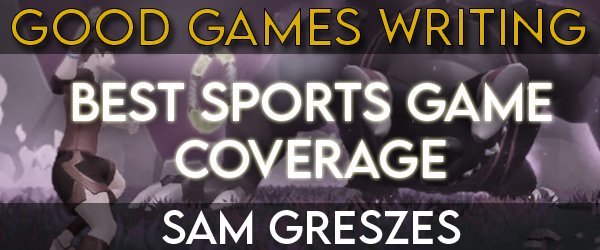 Writing for Polygon, Sam Greszes' essay/review of Ring Fit Adventure immediately stakes a claim for its audience, situating it for those fixated on their body's flaws, dissecting just how Ring Fit subverts our expectations on fitness plans and our own ideals. The game's antagonistic forces are perfect foes:
Later on, Dragaux betrays and alienates even the people he has brainwashed into joining his quest for world domination, absorbing their powers and casting them aside in an effort to get even stronger. Yet despite the fact that the dark influence is supposed to mask his weaknesses and make him stronger, Dragaux still spirals into self-hatred whenever he's beaten, berating himself for being too weak to win. His accomplishments are never enough.
Like the above pieces, this one relies on knowing a sport (personal fitness) and numerous iterations (other fitness plans), despite not being a review on a mega-franchise. Congratulations!
Family Gaming
Another award that requires an awareness of factors we often overlook, in this case, an awareness of audience. Family Gaming coverage is difficult to define, though, as covering a family friendly game can simply be enough if done well, as is the case with these pieces on Paper Mario, Pokémon Sword & Shield, and Clubhouse Games.
Good pieces can stake out their audience appropriately, as cnet's Mark Serrels does, listing the best family friendly games around.
Family gaming can be about bridging the gap between generations, as Lavinia Liang manages while examining her relationship with several horse-themed MMORPGs, a launching-off point for rich conversations on the games we play, and the games we played.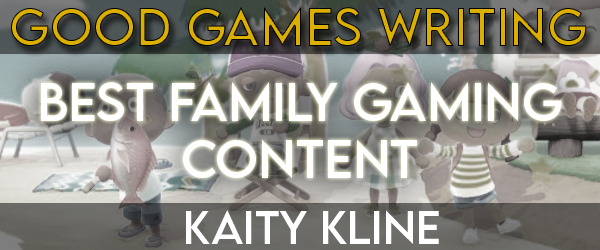 Like Liang's piece, Kaity Kline manages to create an intergenerational discussion, reminiscing about her first experiences with the Animal Crossing franchise, while successfully reviewing Animal Crossing: New Horizons.
After a particularly tough day in the land of self isolation, I opened the game for the first time. The stress immediately melted away from my chest as I was greeted by Tom Nook's twin nephews, the big eyed Timmy and Tommy, perched behind a travel counter. They were there to help me jet off to a new life on Nook's dime, and part of my goal on top of paying my debt was to develop a deserted island into a thriving community.
The pairing of reminiscing with useful information–a careful explanation of being locked to one island per console, no matter the number of games purchased–is the type of context that's needed for average consumers who may not be following the daily grind of news coverage. The notes about reconnecting with old friends are the type of info even jaded gamers can buy into. It's a wonderful piece.
Extended Form
The extended form category is a difficult one to distill into only a few short words: After all, we aren't praising brevity, but we are ensuring every word counts.
Matt Leone's oral history of Street Fighter 3 feels absolutely essential for members of the fighting game community, Capcom-obsessed fans, arcade lovers, and so many more. He allows his subjects to speak, as the authorities they are, and the piece is better for it.
Also at Polygon, Kazuma Hashimoto's sprawling analysis of Ghost of Tsushima invokes modern Japanese politics, claims raised by the dev team during the promotional cycle, and, of course, the influence we heard about again and again, venerated filmmaker Akira Kurosawa. Masterfully weaving these themes together, Hashimoto asserts:
The samurai as a concept, versus who the samurai actually were, has become so deeply intertwined with Japanese imperialist beliefs that it has become difficult to separate the two. This is where cultural and historical understanding are important when approaching the mythology of the samurai as replicated in the West. Kurosawa's later body of work — like the color-saturated Ran, which was a Japanese adaptation of King Lear, and Kagemusha, the story of a lower-class criminal impersonating a feudal lord — deeply criticized the samurai and the class system they enforced. While some films were inspired by Western plays, specifically Shakespeare, these works were critical of the samurai and their role in the Sengoku Period. They dismantled the notion of samurai by showing that they were a group of people capable of the same failings as the lower class, and were not bound to arbitrary notions of honor and chivalry.
Over on Wireframe, Alexander Chatziioannou examines the trend of elderly protagonists at last getting their due, detailing the origins and evolution of the trend, bringing us up to modern takes and their influences. The breadth and depth of the games covered made us wonder if we're about to enter an, ahem, golden age of these types of games, as smaller narratives are championed just as these figures are prominent across short stories. One can hope.
Cian Maher similarly looks at a collection of games tackling a shared theme: climate change. Beyond Blue feels like it gets the lion's share of the treatment–it's a strong interview–but both Temtem and Bee Simulator are given their due, highlighting an issue we expect will continue to emerge across the entertainment landscape.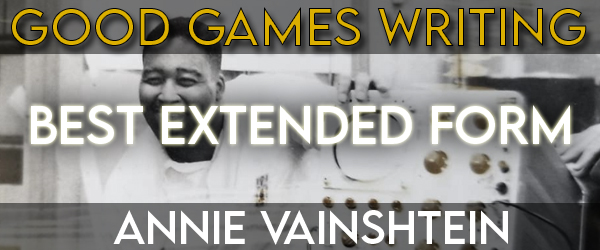 That it's a profile that wins this award is in some ways surprising–we don't do enough of these in games media–but in other ways very fitting. Much of gaming is based on personalities, now more than ever, and the figures that loom overhead are worth examining, both critically and with reverence, as Annie Vainshtein does with Jerry Lawson for the San Francisco Chronicle.
Lawson's contributions, like creating the prototype for the first digital joystick on consoles and being able to pause a game, are ones that we may well take for granted. Celebrating his work, and the work of our industry's pioneers, is important:
Jerry Lawson, on the other hand, was mostly lost to history. […] "If you were to make a Mount Rushmore of games, he would absolutely have to be on that monument," said Kahlief Adams, host of the podcast "Spawn on Me," which spotlights people of color in the gaming industry. […] As society reconsiders its past, there's an effort to ensure that Lawson, and his contributions to a massive industry, don't stay invisible.
In creating such a profile, one that is immediately engaging and filled with sweet remembrances, Vainshtein manages to help ensure his place in history, telling a story that hasn't been told often enough.
Congratulations!