#TheGoodies2020 nears its conclusion with the second last day of reveals.
eSPORTS
When it comes to the eSports and competitive scene we continue to see an evolution of in depth reporting and analysis that aligns the space closer to a traditional sports package.
We saw this as the Overwatch League expanded its own coverage to mirror what we'd expect on a site like nhl.com. Aron Garst's interview with Nero of the Guangzhou Charge touches on the impact of COVID-19 on the OWL and the unique position Nero has as the only American playing for one of the Chinese teams.
Critical analysis of plays and personnel moves are common in traditional sports and 2020 assured us that same level can be expected in eSports. When the Vancouver Titans parted ways with their roster we turned to Emily Rand to understand what went down and how. Rand is, in our estimation, the best in the game with this type of analysis, and we continue to follow that analysis to the realm of League of Legends.
Clash Royale and other Supercell games have their own competitive scene, writes Elizabeth Henges, who pulls back the curtain on the scene. That mobile games could translate to competitive gaming is fascinating, especially given the nature of game-changing microtransactions, though the change of direction is largely driven by fans. It's a cool look at a segment that's easy to overlook.
At theScore eSports, a CS:GO event that creates "shockwaves" throughout the scene in India, with useful context about the rush to corner the market in the country, is placed in the spotlight. If you've ever seen reference to word.exe and not understood it, this video will explain the meme, and the implications for cheaters everywhere.
Competitive metagames emerge across all eSports and certain team compositions or combos effectively become the norm: Fox only, Final Destination, yadda yadda yadda. Luke Winkie profiles the players who intentionally play outside the meta:
Captain Falcon demands the ability to line up and execute combos with subatomic precision; to see the very lines of code on Final Destination. As far as Miller is concerned, there is no sensation more rewarding in Smash Bros. than winning with Captain Falcon. He refuses to ever deviate from the middle of the tier list, no matter how overtuned the next DLC character may be
The discussion isn't just about Super Smash Bros., either, so if you're looking for off-meta play in LoL or Hearthstone you can find that as well.
Eric Van Allen, meanwhile, takes us for a trip down memory lane as he talks all things Marvel vs. Capcom 2, from jamming quarters down the slot to unlock characters to fighting-games serving as the lifeline that kept the last vestiges of the arcade heyday alive.
Over at Kotaku, Nathan Grayson's reporting on an eSports team that signed an 8-year-old had us raising our eyebrows throughout. Is it even legal? If there's a loophole there's a way.
Deen's contract, Gallagher said, is "confidential," but in short, it does not specifically require him to do anything. If he doesn't show up to weekend practice with other, still-unannounced members of Team 33, he will apparently face no consequences. If he is spending too much time gaming and not enough time on his schoolwork, there's an option for his mother to break the contract entirely.
Ok then.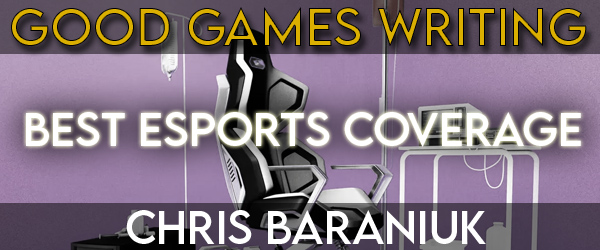 The reality of eSports is that it's work. Whether it's the dubious nature of offering minors contracts or forcing relocation to shared accommodation, as a business and as an employer, eSports requires careful observation to ensure people aren't being taken advantage of, and that workers' rights continue to improve.
eSports related injuries are only starting to be understood in the medical field, Chris Baraniuk reports, starting with the story of a competitive gamer whose wrist pain and walnut-sized lump has effectively retired her from competition.
The potential for injury–whether it's Fortnite or Rocket League, Overwatch or Starcraft–is high. Teams should be equipped with people dedicated to managing injuries as they are in sports leagues; medicine should continue to evolve around the potential for injury; and mental health, in particular, requires immediate attention.
There are steps in the right direction: Baraniuk interviews Fabian Broich who, as Head of Performance for a team, imposes activity breaks, controlled nutrition plans, and monitors sleep. These are steps in the right direction.
It's a piece that embodies both the challenges and opportunities inherent in eSports.
ONGOING
The ongoing coverage award is new to us: It represents coverage of commerce writing, games-as-service news, in depth of coverage of certain games and beats, guides writing, and more. It's an imperfect and inelegant award category for the type of work that drives site traffic.
On the guides front, we appreciated the breeziness of Fanbyte's Yakuza: Like A Dragon guides, jumping right in to tell us what we want to know, providing useful tips in a straightforward manner:
There's no way to know which bugs you're going to obtain when you pick them up, but there's a silver lining. Hamakita Park is the best place for bug catching, as there's picking spots throughout all of the grasslands and on trees there. You can even set yourself in a specific area and just run in circles to see them spawn in real time once you mark some distance.
That's the type of no-nonsense info we need!
At USGamer, it was Paper Mario guides that helped us through the year, and we especially appreciated the copious amount of screenshots available to help us find Toad.
We also want to highlight SuperParent's Pokémon Sword and Shield coverage for being accessible to the youngest gamers in our households, whose guides answer any and every question a young Pokémon master may have, both with clear written instructions and helpful arrows on images. Video guides are often included as well!
When it came to playing Fortnite, the only site we trusted without question was PC Gamer, whose coverage is so comprehensive we had to hit the LOAD MORE button three times just to get back to 2020 territory. (Disclaimer: Joseph Knoop is a key part of this coverage and he is a former team member of Good Games Writing.) The range of content is stunning–there's location guides, explainers on game modes, challenge guides, and just general news. We haven't left December, yet, if you were wondering.
Focusing on specific games, Kenneth Shepard's frequent essays on The Last of Us Part II are regularly among the most thought-provoking works we read each month, serving as touchstone pieces our curators discuss at our weekly meetings, with this section of a paragraph standing as one fight about months later:
In establishing what its characters believe to be forgivable, The Last of Us Part II rescinds its invitation for us as players to assert our vision of its characters that the original's ending gave us. After years of applying our own scruples onto these characters, they finally have definitive, in-text opinions on that matter. It's pretty characteristic of the series to present its story and views without much of an interest in what the player thinks. But just because it's unapologetic doesn't mean that it's going to comfortably sit with everyone.
Patricia Hernandez dominated Fallout 76 coverage through much of 2019 and while she contributed somewhat on the topic in 2020, she largely passes the torch to Cass Marshall, though Polygon's combined body of work on the game is astounding.
The "Game Changers" series at GamesIndustry.biz caught our eyes and introduced us to many people and organizations worth knowing about. It's an essential read, in our estimation, for anyone that wants to be fully immersed in the future of this industry.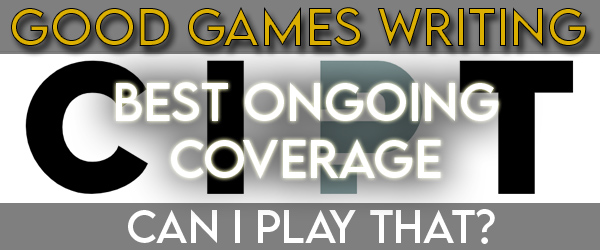 Ultimately, our panel landed on Can I Play That's accessibility reviews, themselves able to be subdivided into categories like reviews for Deaf/Hard of Hearing, Mobility, Visually Impaired, and general accessibility.
Here's what a section for a visually impaired review might look like:
Tracking and clutter pose significant challenges. Luckily, Fight Crab is a fairly typical button-masher, so the difficulty seeing precisely what is happening is not usually an impediment. The contrast and lighting are usually sufficient, though it would have been nice to be able to control these to our own tastes. To reduce the clutter, you can select simpler weapons that may be easier to see.
And here's one on the captions of a game:
While the captions generally felt comfortable to read the majority of the time, there was a rare occasion where they exceeded two lines and felt a little overwhelming. Thankfully this was, as stated, a rare occasion, and the game mostly relies on sentences that only take two lines in story dialogue, and one line for pretty much everything else.
Can I Play That? covered many of the biggest games of 2020 along with the console launches. Their reviews are clear, their audience intentionally laid out in every piece, and they are setting the standard for what coverage of games can and should look like going forward. Now to get them multiple copies of major releases so each of the aforementioned categories can be covered on one site!