Part two of our Friday night awards includes an epic pair-up.
A/V Content – Individual
"Welcome to Midgar, home to a thousand SOLDIERs, a million X-points, and a billion tonnes of steel" says Jacob Geller, in just the beginning of his introduction to his favourite video game setting in years. "Opening the door on the vista", Geller's tribute to the setting of FFVIIR is one the videos that stood out in 2020, a love letter to the city and its omnipresence.
GameSpot's Audio Logs interviews are true gems but "The Feature That Almost Sank Disco Elysium" stands as one of the best we've seen — it's also one of the pieces across The Goodies to drop pre-COVID lockdown in North America, so that's something. Insights into the text system/dialogue engine and its orientation, lessons learned from tabletop gaming, the need for experimentation, and more.
Access Ability digs into the games that tuck accessibility settings behind game progression. Optional extras these are not; these are settings that make games more playable, not rewards. Examples come from Nintendo games and beyond.
Spawn on Me with Kahlief Adams creates a space for discussions on blackness and the failures of the games industry (and beyond) in supporting Black creators. This episode came in the wake of George Floyd's murder and holds space, tackles issues head on, and doesn't hold back, particularly in this powerful segment.
Fodlan FM involves in depth conversations around specific Fire Emblem: Three Houses characters, a game overflowing with characters and storylines that change and evolve, and the take on Ingrid is one of the more nuanced discussions. If you're a Blue Lions loyalist this is the episode for you.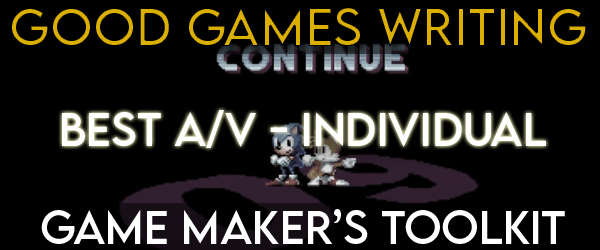 "Is a life system still relevant game design or just an antiquated relic of the arcade era?" begins Mark Brown in his award-winning video. The explanation of lives–described as permanent and temporary checkpoints–and the balanced discussion on the mechanics is top notch. While the video is ostensibly about Crash Bandicoot 4, it's about Mario, and Mega Man, and so many games who embraced the lives mechanic just as it's about the indies like Super Meat Boy that rejected the notion later on. There's the middle grounds, too, which Crash Bandicoot embodies, as evidenced in games like Kero Blaster or Ori and the Blind Forest.
The production quality on the video–from the voiceover to the seamless transitions–should also be noted here.
BEST SERIES
This award is divided into A/V and strictly written components.
It should come as no surprise that in the A/V category the works that were nominated consistently create their own micro-communities both for the content and the particular niche.
Retronauts is, well, retro, and it's consistently good at creating a sense of nostalgia for bygone eras. This episode spotlighting merch maker Numskull made us miss the '80s. We, uh, weren't alive then.
The Party of One podcast is an actual play podcast oriented around two-player RPGs (TTRPGs). The format lends itself to revealing more about games and their mechanics, the inspirations of developers, and potential sample runs for players. This episode is the one that first turned us on to the 'cast.
Archipel Caravan's orientation towards Japanese games lends itself naturally to a particular niche but we find it transcends the intended audience to tell compelling stories. This profile/interview of/with Takenobu Mitsuyoshi (and his voice) stands as one of their best but is also emblematic of what the channel creates on the regular, despite its relatively short episode order. You can catch up on everything in an afternoon.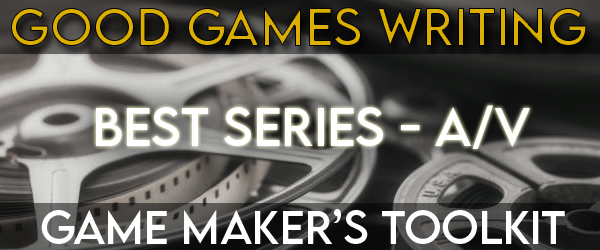 Game Maker's Toolkit reliably asks compelling questions, challenges our thinking, and stitches it all together in a compelling package that's generally under 20 minutes long. Punishments/rewards and stealth mechanics were regularly featured throughout the 2020 run, and the tradition of discussing accessibility in gaming was continued.
~
On the written front, Colin Campbell's fantastic newsletter "How Games Change The World" is a dose of positivity in a world that can use it. Positivity doesn't capture all of what the newsletter is about, though, as stories that are simply stellar are included, and Campbell is a masterful curator whose expertise in this space we don't take for granted. Here's Campbell on a good day in games media.
There's Ed Smith's Restless Dreams compilation, which we detailed earlier in the awards, fascinates us with his longform and oft experimental dives into Silent Hill 2.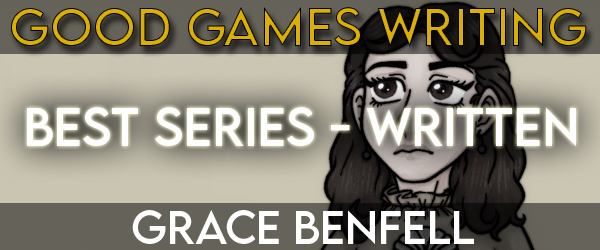 A relatively new monthly column, "Killing Our Gods" caught our attention quickly with it being described as a column "about Christianity, religion, and role-playing through a queer, Marxist, and lapsed Mormon lens." We've never shied away from looking at things from a religious lens nor have we ignored criticism based on these grounds.
That Benfell doesn't shy away from difficult subject matter works in her favour. But above all, it's her choice in the games she applies her various lenses to, peeling back layers we hadn't considered. Her analysis of Disco Elysium pairs that communist lens (as in, the works of Marx + Engels) with small nods to existentialism in the face of crisis and restitution:
By emphasizing that effort, especially in the face of the existential powers of the Pale and your addicted bloodstream, Disco Elysium gives voice to a quiet human hope. By the end, Harry can be at least somewhat put together, restoring what he can, and making restitution for what he cannot. It is, thankfully, not a clean redemption. There are people who Harry has hurt, who he can never reconcile with. The world remains the world. Your past remains your past. There is still good to be done.
The notion of darkness and dark hearts and an implicit battle against the light in Kingdom Hearts: Birth By Sleep is used as an analogy to the treatment of queer members of religious communities:
Shedding only a single tear, Eraqus attempts to murder his children because of the evil he imagines they might become, because they are broken. It is one of the darkest moments in Kingdom Hearts, one that echoes the way queer lives are treated by many families.
While not eligible for these awards, Benfell's most recent installment continues to build on the series and it made our latest Weekly round-up: You can read that piece here and check out the other pieces we featured here.
Congrats to the nominees and winners in these categories!
CORRECTIONS: An earlier version of this post mistakenly referenced 'homosexuals', wrongly used out of context from the material we were quoting, when in fact this goes against our own style guide and best practices. We regret this error.